Somewhat lost amid Cadillac's varied (and ongoing) revival efforts, this superb concept car proved that there's still mileage in some traditional concepts and values. 
There's no better symbol for the American car industry's post-oil crisis' struggles to change and evolve than Cadillac.
For the past four decades at least, the former Standard Of The World has found it difficult to come to terms with changing demographics, markets and tastes. For too long, an increasingly outdated concept of luxury was upheld, before numerous attempts at bringing Cadillac up to date have largely failed for one reason or another. Only the ongoing success of the gargantuan Escalade SUV has prevented the marque from falling into utter oblivion.
Among the numerous stylistic reboots of the past – be they called Seville STS or 'Art & Science' – a rather low-key example deserves special attention. Not so much because it stands out, but because of its inherent rightness: The Elmiraj concept car, unveiled at the 2013 Pebble Beach Concours d'Elegance.
Harking back to GM's last era of stylistic leadership, the Elmiraj is nothing other than a modern Personal Luxury Car. Furthermore, its style harks back (albeit only in spiritual fashion) to the 'sheer look' form language implemented under legendary GM chief designer, Bill Mitchell, in the 1960s.
A similar approach had obviously been tried and tested a decade prior to the Elmiraj by Lincoln, under then-chief designer, Gerry McGovern – but unlike those equally enchanting concept cars, GM design (then led by Ed Welburn) elected to go for a considerably less nostalgic, less retro style in 2013, capturing the flair, rather than outright design cues, of a beloved bygone era.
Flair the Elmiraj possessed in spades, as anyone who visited not just the exclusive Pebble Beach event, but also the more common Frankfurt Motor Show the same year could attest. Not just in contrast to the conceptually similar, but sensually purified Mercedes-Benz Concept Coupé, the Cadillac betrayed a stylistic confidence at odds with the general waywardness that has come to define the brand to an unfortunate extent.
Regrettably – and tellingly – the Cadillac remained a one-off, whereas the Mercedes was the teaser for a very similar production car that has since acted not just as an image building exercise, but added to the Swabian brand's bottom line. 
Of course, it would be foolish to suggest that a fringe model such as the Elmiraj would've been enough to finally turn Cadillac's fortunes around. But its finesse, and how little of it found its way into production vehicles of the brand, suggests there's a gulf of some significance between what people such as the Elmiraj's Brit designer, Niki Smart, could achieve and what management allowed them to instil into cars the public could eventually buy.
Furthermore, Elmiraj betrays that there is, after all and against all prevailing prejudices, a way to come up with an elegant, contemporary, yet wholeheartedly and unashamedly American automotive style. Neither the grey plastic coarseness of a great many American mass market models, nor the infinite loop of retro pony & muscle cars of the past two decades have provided as convincing a concept of contemporary US design as this delicious slice of American luxury.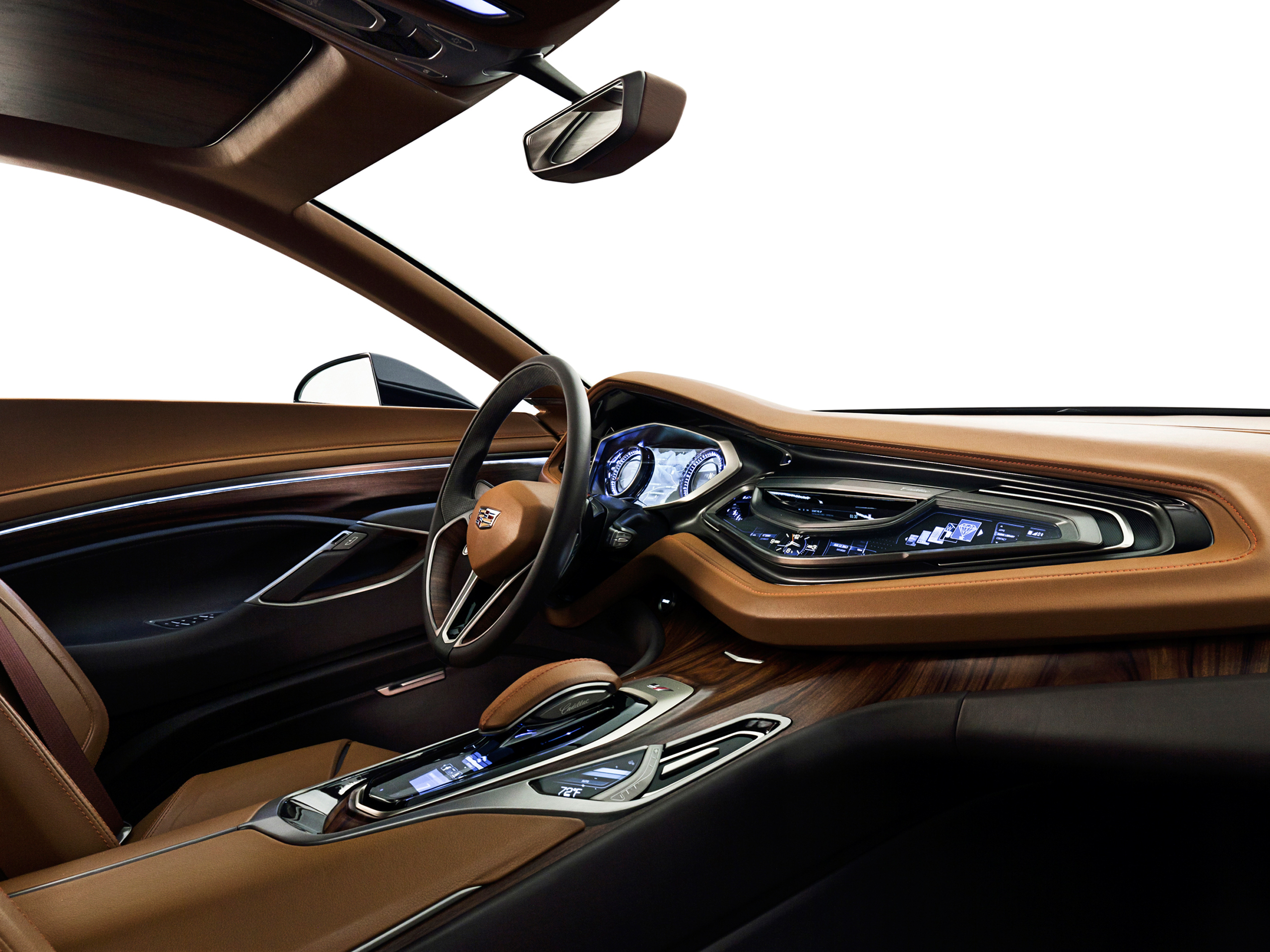 Brazillian rosewood, caramel coloured hide, quite a bit of metal and graphics that are considerably more flamboyant than the teutonic norm (Wagenerised Mercedes excepted) ensured that the Elmiraj's cabin was just as convincing in its pursuit of modern American luxury as the exterior.
All things considered, one must wonder why so much obvious effort went into a concept car that proved to have so little effect on Cadillac's immediate future. One explanation might be that Elmiraj was created before the arrival of touted Cadillac CEO, Johan De Nysschen, who might possibly have found the concept of a modern personal luxury car a bit 'too Detroit'. Another explanation might be that GM's designers seized the opportunity to deliberately create something for the heart and soul rather than the market.
This slideshow requires JavaScript.
Returning to the 2013 Frankfurt Motor Show and the Mercedes Vision Coupé for a moment, the Elmiraj and its fate illustrate what a peculiar place the automotive industry has become. If shown photos of either of these luxurious coupés, a car enthusiast from any era up to the 1980s would've been likely to easily identify the Elmiraj as an offspring of the Detroit's finest marque. Some might even have mistaken the Cadillac for a Mercedes, for it shares some of the stately elegance of the Swabian cars designed by Paul Bracq. The actual grand Mercedes coupé of the 2010s possesses none of this aura. Which renders it either exceedingly progressive – or utterly astray.
Six years after its unveiling, the Cadillac Elmiraj has not just barely aged, but proves that there's still plenty of life in marques and categories of automobile that are deemed obsolete.
Here's to hoping the next stab at reanimation is about more than mere teasing.
The author of this piece runs his own motoring website, which you are welcome to visit at