To quite some degree, the western view on Chinese tastes in car design has been informed by awe and condescension. This year's Shanghai motor show suggests that may have to change sooner, rather than later.
China, as every donkey knows, is the centre of the automotive world these days. Without it, some of the fundamental changes to the business model of the western world's car makers that are now on the verge of being addressed would have needed to be tackled a decade ago.
China is the lifeline of the car business as we know it, yet the dramatic dependance upon this market hasn't resulted in similar levels of respect for it – quite the opposite, in fact. 'That's what the Chinese demand' has been used as an excuse for a great many a dubious product and design decisions in recent years, often spoken with an expression of regret on the face of those so obviously forced by the Middle Kingdom to do rather less decent a job than they might otherwise have done.
Yet judging by what's on show at this year's Auto Shanghai, coming from some homegrown manufacturers, the sound of that excuse becomes increasingly hollow. For the huge grilles, overwrought graphics and excessive ornamentation that are typically blamed on oriental tastes are not quite the norm, as far as the new offerings of certain Chinese car makers are concerned.
Obviously, more than one western automotive news outlet could't help themselves but regurgitate the old 'Chinese copycat car design' mantra as part of their Shanghai 2019 reporting, but such a stance of European superiority is clearly taken at one's own peril these days. For Chinese car design has come close to matching the standards of established marques quicker than the Japanese or even South Korean players did, back in the day. And not just in terms of craftsmanship, but also the even more delicate matter of taste, the Chinese showed up more than one western design prejudice.
So while clearly emulating Tesla's fastback architecture to quite some extent, the XPeng 7 sports graphics sufficiently different from its Californian role model to lend the design an expression of its own. In terms of shutline treatment (odd clamshell bonnet apart), it even appears to be rather more accomplished than Tesla's designs.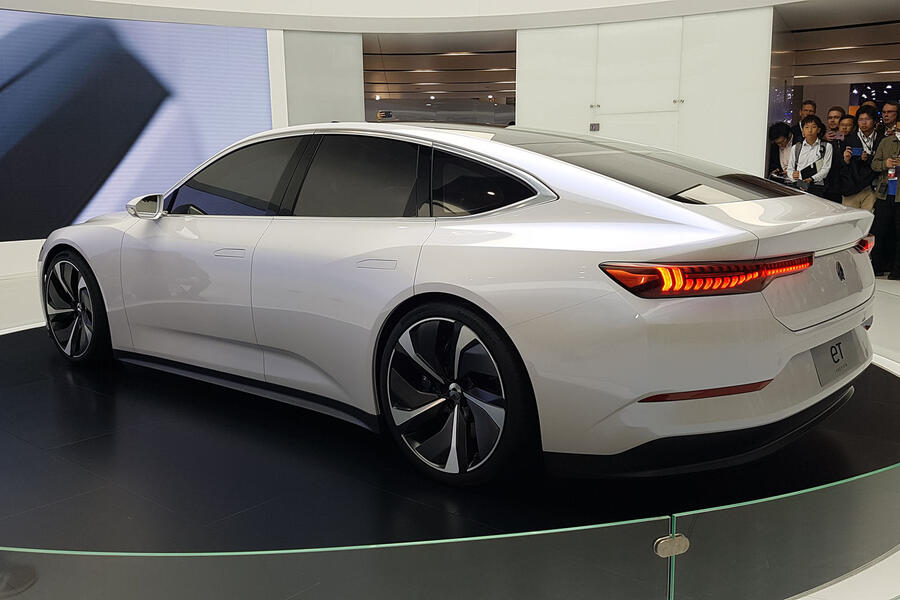 Also following the fastback EV template is the Nio ET, although in this case, the Tesla flair is not as conspicuous. Instead, the Audi A7 and BMW GT fastback models are likely to have been included on the designers' mood board – as well as the Volvo XC40, whose distinctive, chiselled graphics are echoed by the Nio's haunches above the wheels. That being said, the overall impression of the Chinese car isn't as disjointed or generic as these references might suggest. As a matter of fact, the Nio appears positively restrained and  coherent next to quite a few excessively busy, overly ornamented Western designs, most notably Audi's E-tron GT.
The Grove Granite's flair is rather more oriental and ornamental than the Nio's, which is particularly intriguing, as the former was designed by none other than Pininfarina. Wheels, lights and 'airy disk' effect grille are all rather glitzy and expressive in their execution, but coupled with the expert surfacing and some neat graphics (including Pininfarina's new trademark thin metal arch above the side windows), the Grove avoids the gin palace flair that informs so many prestige car designs aimed at the Chinese market.
Intriguingly, the Grove was not the only Pininfarina-designed car on show at Shanghai, as Karma, best known for producing an adapted version of Henrik Fisker's EV of the same name in the US, brought along the GT, whose shape had been created at Cambiano. Using the rather comical Karma saloon as the basis, the Pininfarina designers toned down the original car's extreme proportions and created a classically elegant GT.
The rear aspect in particular illustrates why the carrozzeria remain purveyors of classical elegance, whereas the front's F1-derived graphics aren't as convincing. That being said, the Karma GT flies the flag of the elegant large coupé at a time when this automotive staple has undeservedly become an irrelevance.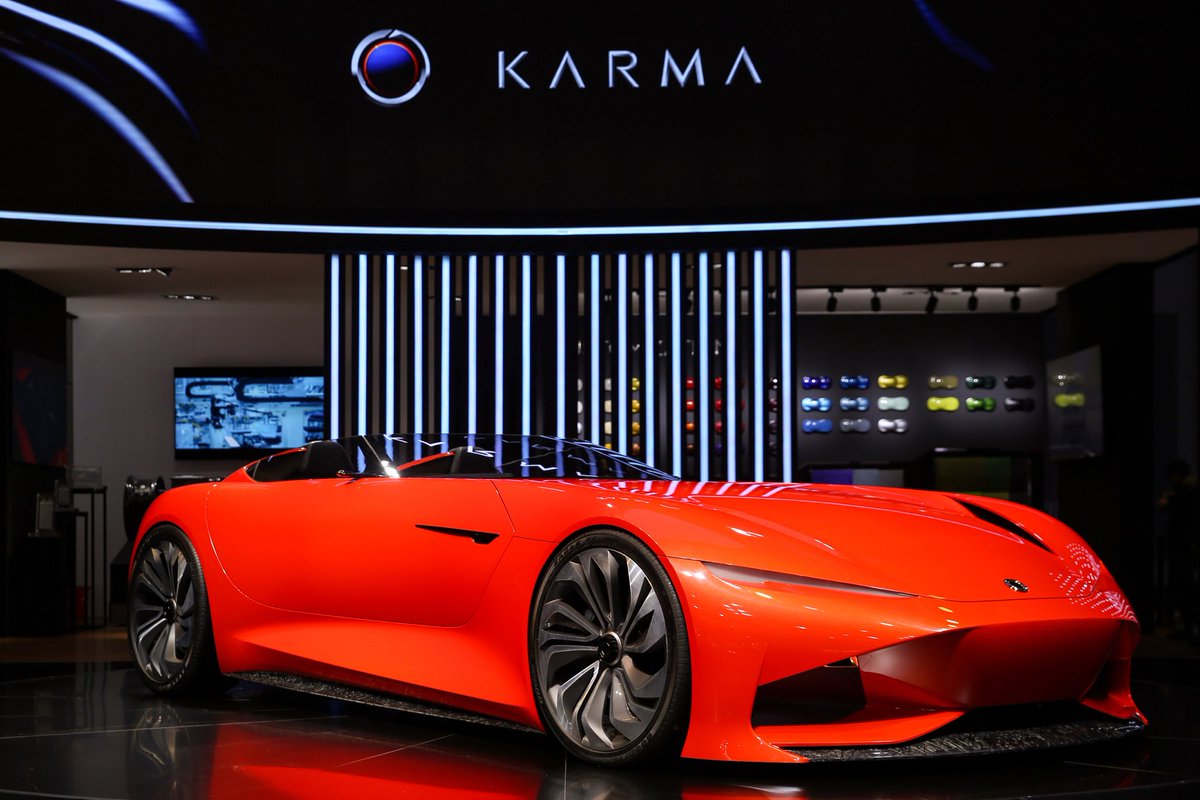 As if one concept car wasn't enough, Karma also brought the SC1 Vision along, an EV barchetta with the most impressive scissor doors since the Bertone Pandion. Designed in-house, the SC1 Vision is closer to the original Fisker Karma than Pininfarina's GT in that its proportions are utterly and deliberately extreme.
Apart from this, it's a competent piece of design that suffers from the Karma marque's generally rather anodyne flair, owing to the lack of a strong logo or front graphics – just like the GT, incidentally. Unlike the Pininfarina design though, the SC1 Vision also appears rather heavy, owing, to some extent, to the immense discrepancy in terms of proportions between the windshield and the lower body. A lithe (electric) race car this Karma is not.
For a change, Aiways chose to present neither a fastback saloon nor a sports car design as their most recent EV concept car, but an MPV. Designed with some input courtesy of Ken Okuyama, the U7 Ion sports a great many styling details currently en vogue (light bands, blackened roof – even featuring a strip of metal reminiscent of Pininfarina's canopy graphics), albeit presented in slightly straighter & squarer a fashion than is currently the norm.
The interior also appears to be far from outlandish, but conveys a tastefully Asian interpretation of 'premium', while taking advantage of some of the packaging advantages an EV architecture brings about.
Given its unusual positioning and its accomplished appearance, the Aiways would seem to be among the more relevant unveilings at Shanghai. Given the popularity of chauffeured motoring in China, a focus on interior space and comfort clearly seems to be far more sound a concept than the usual performance-oriented offerings.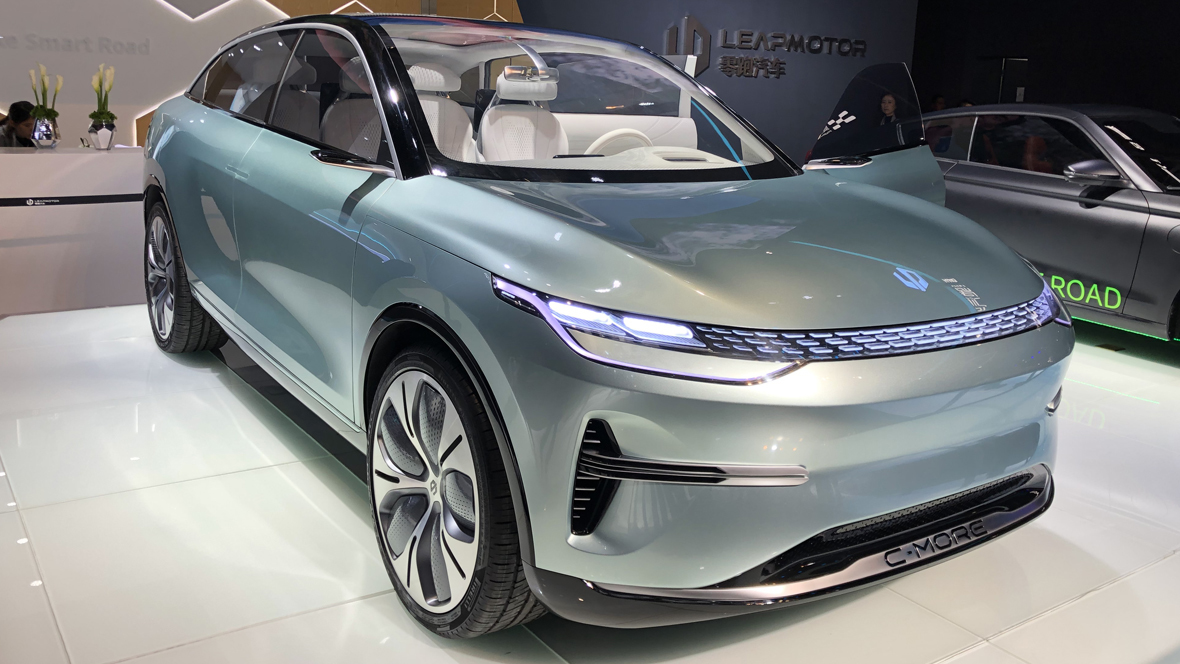 More mainstream is the Leapmotor C-More, an electric sports SUV, which features some interesting light graphics, in addition to the prerequisite black roof with metal trim. Its soft surfacing is not too dissimilar to Mercedes-Benz' current style, but rather more convincing in terms of shutline placement and graphics. It's unclear if this C-More was designed in-house or by a consultancy, but regardless of its origins, the car appears to be far above the international industry average in terms of its stylistic execution.
After the Leapmotor or Aiways, the Enovate ME-S would seem to be a throwback to those years when Chinese motor shows truly were mostly about copycat designs, given its rather obvious nods to Porsche's Panamera and Mission E saloons. Even so – and garish wheels apart – the ME-S' overall flair comes across as being far more 'western' (as in 'restrained' and 'refined') than the recent EV concept cars from Audi or BMW, with their overwrought 'digital baroque' appearance.
When even the less impressive exhibits by the upstart domestic industry can teach the establishment one or two lessons, it becomes glaringly obvious that this is nothing short of a watershed moment. Also taking the limitations of judging show cars on the basis of photos only into account, there is no escaping the conclusion that some Chinese brands are working hard on achieving levels of sophistication which hitherto appeared unattainable to them – while a great many Western brands were busy lowering their standards in order to (supposedly) pander to Chinese tastes.
Patronising one's clientele can be very treacherous business indeed.
The author of this piece runs his own motoring website, which you are welcome to visit at