Unusually for the company, BMW's large coupés have traditionally been rather fickle creatures. 
The success of the German car industry is founded upon consistency and evolution. BMW is no exception, as exemplified by its core 3 and 5 series models, which have rarely deviated from the proven and tested formulae.
While other BMW models haven't been as consistent and successful what with the 7 series never quite recovering from the after effects of the very disruptive E65 generation, it's the brand's large coupés that have been by far the most systematically unsteady.
Setting the somewhat erratic tone for future BMW GTs to come was the Bavarians' first post-war luxury coupé, the 503. Like the revered 507 roadster, its design came courtesy of Albrecht Count von Goertz, and sported a moderately modern style, by the standards of 1956 – certainly when compared with the very opulent (not to say corpulent) 502 Barockengel model upon which it's based, which would have been described as a retro design, if post-war society had bothered with coining such terminology.
Tall and narrow kidney grille apart, the 503's appearance was considerably more contemporary than the base car's, with an almost Scaglione-like flair to its profile in particular (if it wasn't for the slight bottom-heaviness). Alas, this wasn't enough to prevent the gran turismo from adding to the 503's and 507's distinct lack of sales success, which almost crippled their maker.
The successor car, the 3200 CS unveiled in 1961, wasn't the product to turn the company's fortunes around either. Despite even more Italianate looks (courtesy of Bertone's newly hired chief designer, Giorgetto Giugiaro), success continued to elude BMW's large coupé offering. The slightly meek frontal aspect is less likely to be blamed for this than the 3200 CS' underpinnings, which were largely the same as 503's.
If it had sported the badge of a marque other than the struggling Bavarian motor works', its body-on-frame construction, lack of servo-assisted steering and rear disc brakes may have been overlooked by the market – yet the lure of the blue and white propeller was far from strong enough to achieve that feat at the dawn of the Herbert Quandt era.
This, of course, changed once the Neue Klasse, BMW's other new product introduced for 1962, redefined the Bavarian brand as purveyors of Freude am Fahren. To the baby boomer generation in particular, the letters B, M and W would henceforth stand for dashing, somewhat macho means of mobility, rather than a confused range made up of anything from bubble cars to blobby luxury saloons.
With the way thus paved, the BMW E9 range of upmarket coupés stood a much better chance of succeeding than its post-war predecessors.
With in-house styling very obviously influenced by the carrozzieri's previous contributions to BMW design, the E9 for the first time didn't seem like an odd take on a slightly less opulent Mercedes, but a sophisticated-yet-sporting alternative to the rather more staid four-seater coupé competition.
Although too small and basic to be seen as a competitor to the Personal Luxury Cars then dominant in the crucial US market, and too unwieldy to be considered a true sports car, the E9's straight six power and pleasing looks provided enough allure for it to outsell its predecessor by a factor of 50.
Its racing success certainly helped raise the E9's profile, which results in its more performance-orientated versions (3.0 CSL, Alpina and the 'Batmobile' versions in particular) having been considered bonafide classics for some time already.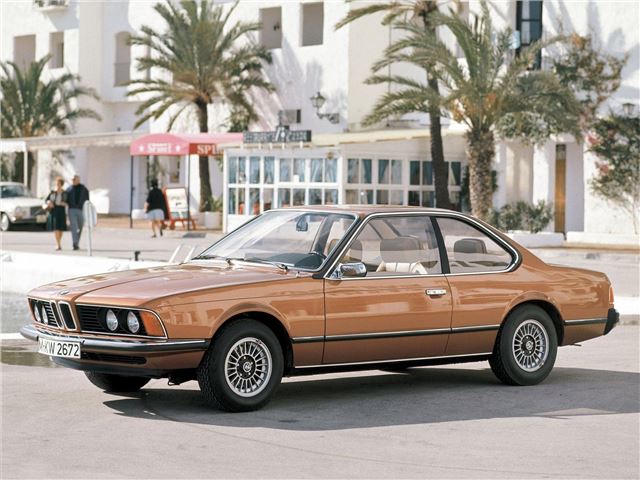 Yet it was the E9's successor that is still seen as the most relevant Bavarian take on the gran turismo concept: The first Sechser.
Remaining in production over the course of 13 years and receiving significant updates during this period, the original 6 series can be compared with Mercedes R107 generation of the SL roadster. For in either case, these models defined the perception of each brand at the upper end of the product scale, despite both being relatively outdated by the mid-1980s.
Originally styled by Manfred Rennen on the basis of Paul Bracq's initial design, the Sechser proved to be a far more convincing offering to the western world's upmarket clientele than the rather clumsy first 7 series, with which it shares the odd stylistic trait. Unlike that car, the 6 series is characterised by the kind of very tall greenhouse that was to become a BMW trademark for more than a decade.
Its oddly short wheelbase proved to be no impediment to this GT's success either, as the BMW acted as a more classical and practical alternative to the Porsche 928, just as its looks and performance were still perceivably more dynamic than Mercedes' SLC and later SEC coupés. It was cheaper than either of these models too. Jaguar's XJ-S, on the other hand, would have barely registered as competition for many years after its unveiling, owing to its initially dramatic quality issues and lack of efficient engine options.
Even at an advanced age, the 6 series had a sizeable corner of the market for itself, as it was more practical, cheaper and (at least in terms of its image) sporting than any competitor. This formula should have ensured long-lasting success, just as had been the case with the first two generations of the 3 and 5 series models by that point.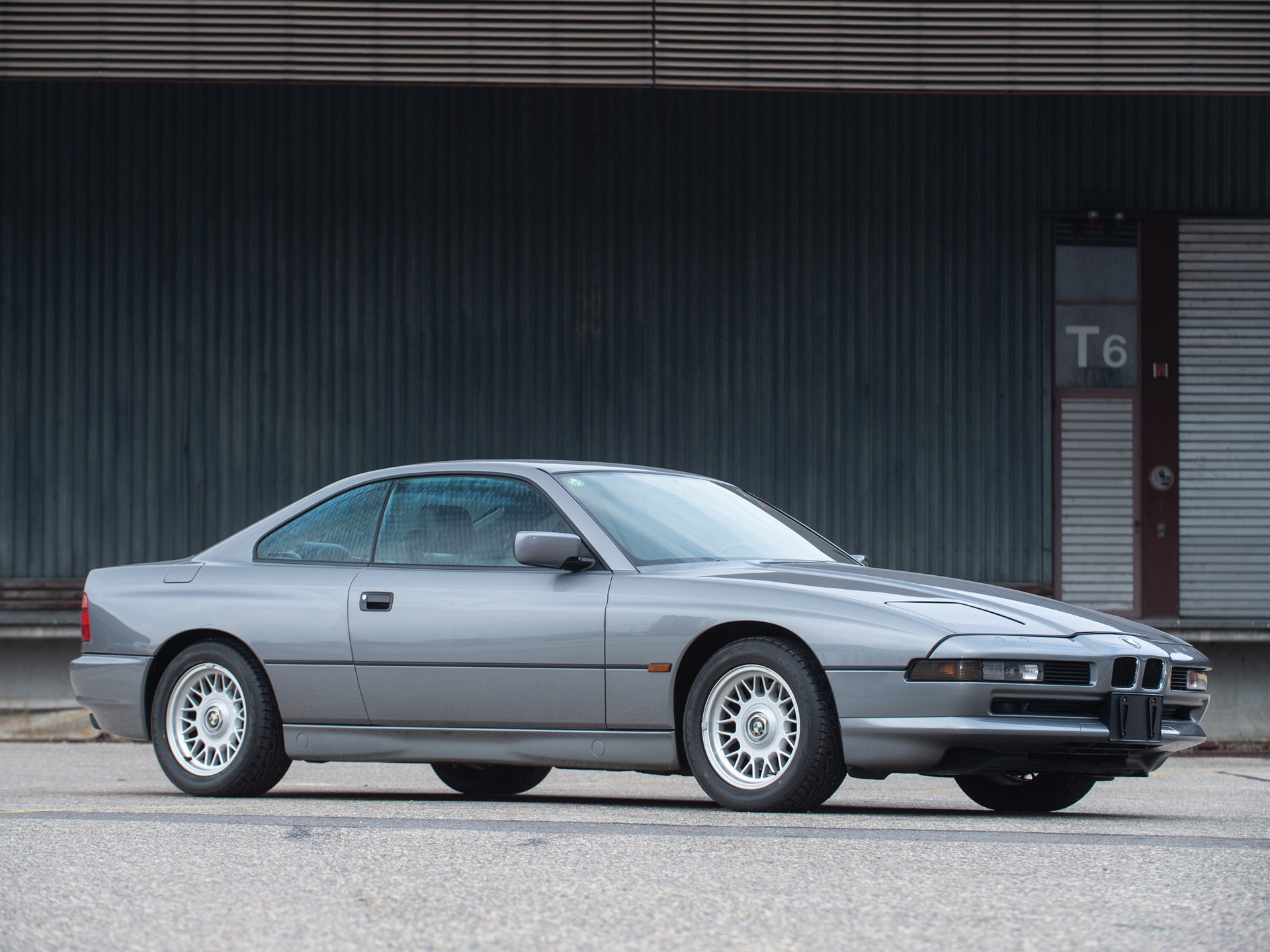 Yet to just keep on going wasn't enough for one Dr ing Wolfgang Reitzle. BMW's Wunderkind chief engineer didn't want to simply update the 6 series, but create a luxurious GT that would put the established competition at Stuttgart Sindelfingen in its place (namely that of a stuffy, complacent has-been). For that reason, the new GT wasn't supposed to undercut Mercedes' competing product, but trump it in absolutely every way.
As can be witnessed in a contemporary TV programme on the development the car we've since gotten to know as the Achter, even a matter such as the tint of the rear lights wasn't too minor to receive Doktor Reitzle's full attention. Highly sophisticated suspension and ambitious electronics were therefore a given, as was the fitment of BMW's five litre V12 engine as standard.
Pride, as is well known, has a tendency to be succeeded by fall. And just like Mercedes' attempts at crushing the upstart competition with the mighty W140 S-class proved to be the wrong step at the wrong time, the Achter almost simultaneously faced a somewhat similar kind of reception. For while Klaus Kapitza's well-proportioned styling may seem an unlikely cause of ire today, it was considered rather too much of a good thing, back in the early '90s – at the dawn of the second Gulf War and a significant recession.
Eight ultimately didn't beat Six, despite the best efforts by Reitzle and his band of capable engineers and designers, owing to it being the wrong step at the wrong time too. Neither in terms of sales, nor in terms of image did the Achter ever achieve what it was created for – the discreet Zeitgeist, BMW's not particularly impressive V12 engine, weight issues and the lack of a convertible version saw to that.
After the Achter's production had ended without much fanfare in 1999, BMW took a four-year-long hiatus from the luxury GT market.
In the meantime, some key personnel had left BMW's Petuelring and Knorrstraße premises (including aforementioned Dr Reitzle), just as the company's chief designer, Chris Bangle, had gained significant notoriety, on the basis of concept cars like the Z9 and X-Coupé concept cars, not to mention the 2001 7 series. With regards to the brand's gran turismo offering, this meant not so much a return to past values (as the 6 series moniker would suggest), as considerable disruption.
For a classical beauty this Sechser for the new millennium was not. Penned – like its even more controversial Siebener sibling – by today's BMW Group chief designer, Adrian van Hooydonk, this 6 series was an avant-garde statement, rather than a crowd pleaser. Its protruding boot and previously unseen graphics would've constituted quite a gamble in any segment of the market, but were the exact opposite of what one would consider appealing to the overwhelmingly conservative, golf-playing clientele of a motor car of this category.
One cannot even faintly imagine the kind of wizard-like eloquence Chris Bangle (a trained Methodist priest, after all) must've employed to get van Hooydonk's baby signed off by a board of directors more likely to play golf than take an active interest in deconstructionist architecture.
That being said, the Sechser largely works as a piece of design whereas the Siebener so obviously didn't. While not beautiful, E63 possesses a coherence and genuine creativity that are very much at odds with its market positioning, but all the more intriguing for it. Its pleasing basic proportions are also helpful when it comes to balancing the oddness of certain design solutions with some more classical aesthetic virtues. Alongside the original Z4 roadster and the E60-generation 5 series, it therefore ought to be considered as one of the successes of the Bangle era.
With more than 100.000 units sold over seven years, this very new Sechser eventually proved to be successful enough in terms of sales to warrant a successor model, too. Whether the car sold in spite or because of its appearance remains up to debate, of course – though the option of a convertible version (for the first time since the 503's days) unquestionably played a role in this 6 succeeding where the 8 had failed.
In the end, through considerable disruption, the Bavarians finally appeared to have re-established the kind of consistency that had preciously eluded them – which would appear rather ironic.
While its predecessor's looks couldn't have been anticipated by the most gifted of clairvoyants, evolution, rather than evolution proved to be the general principle behind the succeeding F13-generation Sechser, unveiled in 2011.
Paying tribute to van Hooydonk's design only through minor details (mainly the shape of the boot's tearing edge) and the proportions, this 6 series was both more conventional and more ornamental than its predecessor (which was bold, rather than fussy). Styled by Nader Faghihzadeh, the F13's graphics are quite busy and include a few odd choices, particularly regarding the light units.
In that sense, this Sechser wasn't half as much its own beast as E63, but much more in keeping with the rest of the range at that point. The rather decorative character of its appearance also meant that the four-door Gran Coupé version was the most comely variant of the range, as all those creases and curves appeared somewhat more harmonious on that car's larger canvas.
In a challenging market that's become highly indifferent towards the gran turismo, this 6 series sold in decent numbers though – albeit clearly augmented by the Gran Coupé saloon version, which some might consider a worthier successor to the relatively athletic BMW Siebener models of the past, rather than today's bloated semi-limousine.
Given the outgoing model's solid sales, one might have assumed that the 6 series' future was ensured. But that wouldn't be taking Bayerische Motoren Werke into account, some marketing mastermind's stroke of genius aimed at putting some clear water between BMW's upscale models and the brand's more mundane – some might say: harmfully brand-diluting – fare. This kind of logic also obviously dictates that the higher the model number, the higher the subjective levels of sophistication and hence the possible asking price.
For those reasons, the car that – for all intents and purposes – should be the new Sechser, is now the new Achter. Or, to pay tribute to aforementioned marketing supremo's, The 8.
Even disregarding the dubious nomenclature, BMW's most recent luxury GT is an odd offering. To describe its exterior design, credited to John Buckingham, as either avant-garde or elegant would be a challenge, as the car's overall appearance is rather convoluted.
The frontal aspect's unashamed aggression should sit rather uneasily even with those golfing enthusiasts that would just about let themselves be seen in front of the clubhouse at the helm of an E63 15 years ago – however, if they've got any gangsta rapper children, this might be a Sechser for them. Unless they're into SUVs, of course.
Then there's the overall stance, which is most odd – as the greenhouse appears to be attached to an oversized lower body, which makes the car (although only available on huge wheels) appear undertyred. The numerous scoops, vents (only some of which are functional) and that stick-on rear spoiler also do not lend the car a particularly high level of sophistication, despite its marketing stressing this GT's supposedly suave qualities.
Or, in more blunt terms: If this same car design sported a dart, rather than the blue & white propeller, few would bat an eyelid if it was announced as the comeback of the Pontiac Firebird.
So what's it going to be then, that BMW GT, eh? Over the course of six decades, Munich's finest designers, engineers and  product planners have time and again tried to get a grip on what it is that makes a great gran turismo. That, on some occasions, they succeeded isn't surprising – that this success couldn't be conserved is.
A popular allegation levelled at Germans is that their culture has no understanding of luxury – that there's a profound mistrust of the superfluous that prevents Germans from creating anything truly lavish.
This may or may not be true. But in the case of BMW's large coupés, a failure to grasp luxury isn't to blame. Just this once, Germans have proven themselves to be just wildly inconsistent.
The author of this piece runs his own motoring website, which you are welcome to visit at