Intended as the crowning glory of a newly-independent, never-more-glamorous Aston Martin, the One-77 turned out to symbolise something else entirely. 
2007 must have been a year of triumph for Dr ing Ulrich Bez. Over the course of the previous seven years, the German engineer and Aston Martin managing director had turned an outdated, but well loved marque trading on past glories and an awful lot of goodwill into a serious prestige sports car brand. On top of that, he'd overseen the sale of the company from Ford to a consortium backed by Kuwaiti investors. Bez was now no mere executive henchman anymore. He was the true boss.
After having spent most of his career playing second fiddle (most notably to his direct superior at BMW, Wolfgang Reitzle, who'd also hired Bez to run Aston Martin during his brief stint in charge of Ford's Premier Automotive Group), Bez had become the undisputed boss of not just any old business, but a company that had refused to go the way of the Jensens and Alvisses – yet similarly refused to earn a profit over the course of the many decades of its existence.
With the main product range of the marque still being relatively new and unquestionably attractive (the DB9 was four years old by that point), a new challenge needed to be set – a challenge that, apparently, had to reflect the extraordinary circumstances under which it was instigated: the extraordinary successes Bez and Aston Martin had accrued.
The resultant Aston Martin One-77 therefore was no ordinary car, not even by the standards of this special marque. It cost £1 million (excluding taxes), was made only of the finest materials (mostly leather and carbonfibre) and powered by a 7.3 litre V12 engine, producing 759 bhp. No more than 77 examples would be built.
Given the strength of the Aston Martin brand, and the hunger for exclusive luxury goods in general at the time, this offering seemed ambitious, but not outlandish. Dr Bez and his fellow decision makers certainly believed the Aston Martin brand truly was so strong, so alluring that they could sell almost anything wearing that badge – particularly an astoundingly rare, frightfully expensive piece of megalomania.
The way the One-77 was unveiled certainly suggested that this was an offering so enticing, it would practically sell itself. Which is why its first public appearance, at the 2008 Paris Motor Show, was a decidedly tantalising affair, as most of the car (or rather: a fibreglass styling model) was kept under a cloth – Picture if you will the almost unbearable pains of longing sheikhs and teased dot-com billionaires!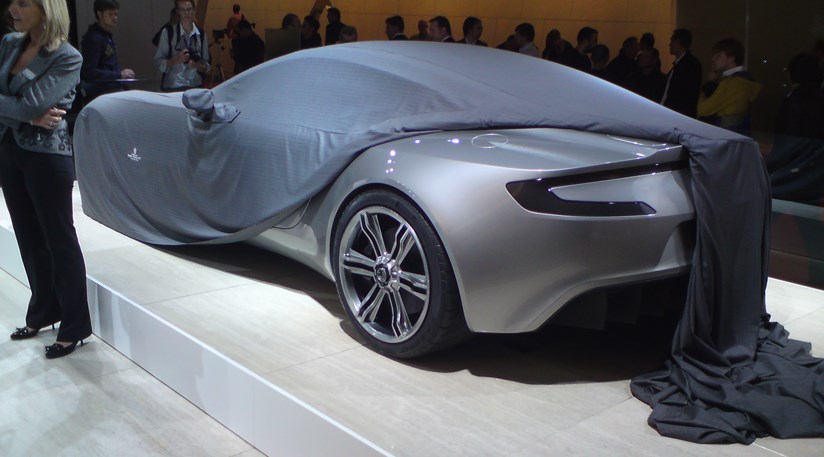 Unfortunately, these pains were soon overtaken by blind panic, as the bankruptcy of Lehman Brothers resulted in sheikhs and tech billionaires alike losing billions over the course of a few weeks. Suddenly, hypercars were not high on anyone's agenda. Even hypercars sporting magnified air intakes and the outstanding innovation of mirror stalks seamlessly fitted to the doors.
Overnight, the air around this most supreme of Aston Martins seemed thin, rather than rarefied.
Another fibreglass model was eventually unveiled, but the lack of reviews (which was fully intentional, as mere journalists were not to besmirch the One-77's exquisite leather seats) and general passage of time meant the aura of mystery and reserve was increasingly met with indifference.
Eventually, reviews and drive reports 'leaked', but by that point, Aston Martin was once again in survival, rather than celebratory mode, which made sideshows like One-77 or the Lagonda SUV concept car unveiled in 2009 appear like unnecessary distractions. The lack of any truly new product until the arrival of the DB11 in 2016 only exacerbated this impression.
Not that this prevented Dr Bez from indulging in yet another vanity project at the same time: An autobiography, focussing on his reign at Newport Pagnell and then Gaydon, somewhat immodestly titled Making Aston Martin.
Meanwhile, One-77's production ended in clandestine, rather than enigmatic style. It's unclear to this day how many One-77s were eventually built – rumour has it the Vulcan race car unveiled in 2015 used quite a few leftover body shells of the car that might be more truthfully called the One-22 or One-44.
Over the course of time though, this rarity might add to this peculiar Aston's myth – after all, the company's history is mostly made up of glorious failures and quaint products, rather than an uninterrupted string of victories and successes. In that sense, the One-77 is a quintessential Aston Martin.
Dr Bez' Making Aston Martin book was sold out years ago, incidentally. Prices for used copies currently start at €319.
The author of this piece runs his own motoring website, which you are welcome to visit at